Termites and Other Pests (WDO)
Termites and other wood destroying organisms (WDO) such as carpenter ants and
wood boring beetles can do massive damage to a home and greatly impact its value.
I have even seen one case in Boise where termites had eaten away at the main beam underneath the house to such an extent, that the entire house had settled 2 inches. I noticed this problem while looking at the roof as I was arriving for the inspection. The termites had literally destroyed the structural integrity of that house. In humid areas where termites are a constant problem, it's not unusual to find many homes that have been virtually hollowed out, their wood turning to dust at a touch.
How does one prevent termite infestation?
There are many steps you can take toward preventing infestation
(if you know what termites look for)
and take steps to make your home less attractive to them
Termites are ground insects that look for habitats that provide food, moisture and shelter close to the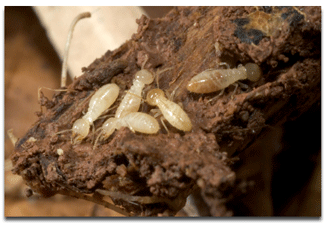 ground. Any place where wood meets soil qualifies, especially if the soil in that area stays moist. Correcting this situation may require re-grading to separate soil from any wood around your home. Since mulch and many other landscaping materials cause the soil to remain moist, you should make sure to minimize mulching around your foundation. Some experts recommend mulching no closer than a foot from your home's foundation. You should also stack your firewood away from your home, preferably by several feet. Stacked firewood provides a natural and safe habitat for all kinds of bugs... not just wood boring beetles, but spiders and many other insects as well. Firewood stacked next to a house is merely an easy invitation for infestation. Also, make sure that gutters and downspouts are in good condition and keep moisture from accumulating, especially next to the foundation. You should also make sure to eliminate any moisture problems in and around your home, especially in basements and crawlspaces.
You can also hire professional termite exterminators to apply chemical treatments that protect your home. Be sure to find out how long the treatments last. The chemicals on the market today generally protect your home for up to 5 years.
How do I know if my home has termites?
It takes an expert to detect hidden termite damage. General home inspections (my competitors) do not typically include a termite inspection. If they do, it is for additional fees. It is highly recommended that you get a termite inspection in addition to your general home inspection. I have been trained to identify this hidden termite damage, as well as conditions that are conducive to termite infestation. Infrared Thermography is an extremely expensive high tech tool that can often find hidden termite damage behind walls, under floors, and in ceilings. It can also find conditions that are conducive to WDO infestation. I use one of the best thermography cameras on the market which gives me unprecedented abilities to find hidden problems. My thermography is discussed in greater details in the "mold" section of my web site.


I adhere to the NACHI Standards of Practice
and the NACHI Code of Ethics.

NACHI Standards of Practice

Proudly Serving the Following Counties:
Ada, Adams, Boise, Canyon, Gem, Payette,
Valley, Washington and Malheur
Oxbow Home Inspections • PO Box 2144 Eagle, ID 83616• 208.573.5300
Troy Farmer: Owner/Inspector • E-Mail: info@troyfarmer.com
© 2007- 2010 Oxbow Home Inspections and Radon Testing, LLC